DISSONANCE
Great Harbor, Woods Hole, Cape Cod, Massachusetts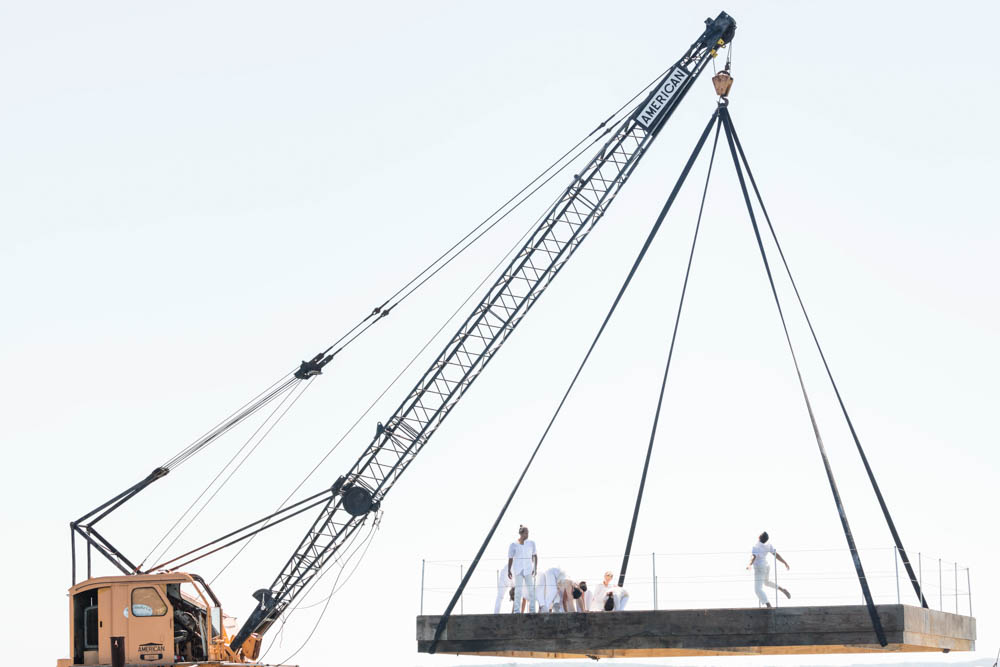 ​DISSONANCE is meant to embody emotions that many of us experience, because of the overwhelming scale of the climate crisis – troubled that our fossil fuel-based economy seems permanent, yet yearning for solutions. In this performance-based art intervention, American visual artist Heather Theresa Clark confines dancers to a platform that appears suspended from a marine crane at sea. Photography and film is produced in collaboration with photographer and conceptual artist Gretjen Helene.
DISSONANCE emerged from the unsettling emotion Clark experienced while interviewing over twenty leading climate scientists as artist-in-residence at Woods Hole Research Center, ranked the world's number one climate change think tank by the International Center for Climate Governance (ICCG).  During the interviews, her world view shifted by the climate data that measures and forecasts our climate crisis – the effects on humans and nature are catastrophic.  However, in parallel to the interviews, she was enjoying an exquisite summer with family and friends on the beaches of Cape Cod.  She transferred the experience of cognitive dissonance into the work's visual cues.  How could climate change be happening in a landscape that looks this pleasant?
During the fall of 2017, the community of Woods Hole, Cape Cod, USA came together for this performance-based art intervention at sea.  DISSONANCE was a community effort, supported by over 50 volunteers, including all the artistic contributors, who desire immediate action on climate change. The Yard's resident dance collective, Dance the Yard, choreographed this original piece with music by Christen Lien. The region is an especially relevant location for climate change artwork.  The area is home to many top tier scientific institutions.  Woods Hole is also situated on the coast, and like most coastal communities, is susceptible to sea level rise.
This artwork is supported by the generous contributions of W.S. Shultz Co., South Mountain Company, NORDIC Structures, Architect Chris Warner, Fire Tower Engineered Timber, Bensonwood, Marine Safety Consultants, Inc., Peter Bumpus, The Valle Group, Gretjen Helene Photography, UnderCurrents Productions, Scott Jansson Photography, Boston Photo Rentals, Paul So, Specialty Builders Supply, Notus Clean Energy LLC, Wood Lumber, and Falmouth Climate Action Team.
PHOTO CREDIT– Gretjen Helene; Scott Jansson (drone)